FREE Outdoors Magazines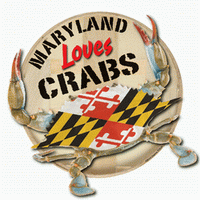 A FREE Magazine Dedicated To Maryland's Iconic Chesapeake Bay Blue Crabs!
---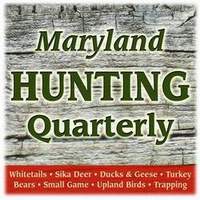 Providing the best information in a great-looking format to make your Maryland hunting experience safer and more successful.
---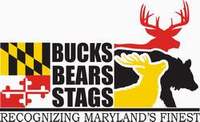 Celebrating Maryland's world-class White-Tailed Deer, robust Black Bear population and our unique Sika Deer; then recognizing the successful hunters for "Maryland's Finest" Record Book.
---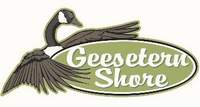 Geesetern Shore reflects a lifestyle, a hobby, a vocation or passion of those who are influenced by the Canada Goose or the unique Eastern Shore-DelMarVa region.
The Outdoorsman Radio Show
Interview with Dan Cox, candidate for Maryland Governor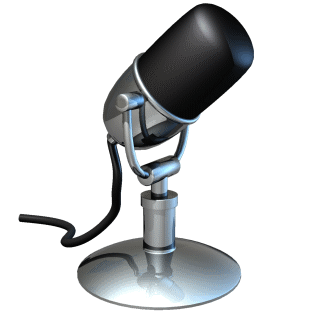 The Outdoorsman Radio Show brings the outdoors experience to the ears of thousands of fishermen and hunters every Saturday at the crack of dawn. From 5 to 7 AM, as the fishermen head to the boat docks or streamside, as the hunters travel to their deer stands and waterfowl blinds, Allan Ellis talks with listeners LIVE about their favorite pursuits. Fishing, Hunting and the Great Outdoors are the topics of choice.
In April of 2004, the Outdoorsman Radio Show, hosted by Allan, debuted on the powerful 50,000 watt WCBM 680 at 5 to 7 AM every Saturday, 52 weeks a year.
Back in the day... Before the Outdoorsman Radio show began in 2004, Allan Ellis hosted The Maryland Sportsman Radio Show.
The Maryland Sportsman made its debut in December of 1988 on AM 680 WCBM and ran continuously through the end of July 2002. The two-way talk show with its focus on fishing, hunting and the great outdoors, spoke to thousands of hunters and fishermen every Saturday as they began their weekend. The 5 to 7 AM show captured their attention as they headed to their favorite duck blinds, deer stands and fishing holes. Over thirteen years; over 700 shows (all live broadcasts) reached tens of thousands of outdoorsmen.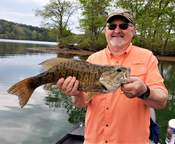 Your Host, Allan Ellis Allan's love of the outdoors, his hunting and fishing experience and his desire to inform, educate and entertain makes him the ideal host.
Allan has made his living in advertising, publishing and broadcasting in the realm of the outdoors most of his adult life. His drive to promote conservation and ethical behavior permeates each broadcast. He is pro-gun and pro-hunting and not afraid to engage the most rabid animal activist or gun control advocate.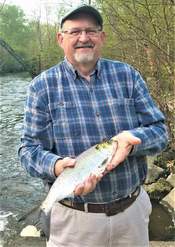 Allan has fished from Canada to Florida and can offer tips on tackle and techniques to increase a fisherman's catch. And, he's always willing to share a favorite fish or game recipe.
Allan's love of fishing is only exceeded by his passion for hunting. He has hunted small game and big game from New Brunswick to Wyoming but remains loyal to Maryland with its unparalleled opportunities.
Allan's connections with Department of Natural Resources personnel, leaders of conservation organizations and experts in the world of fishing and hunting keep him updated on the latest news and information; not only in Maryland but throughout the country and beyond.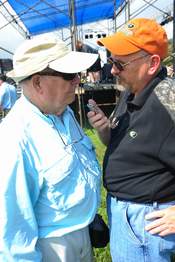 Allan has interviewed, fished, hunted and broken bread with nationally recognized professional bass fishermen, waterfowl calling champions, top hunting personalities, politicians, lobbyists, entertainers, NASCAR drivers, fish and game managers, scientists, guides, charter captains, watermen, corporate giants and plenty of grassroots fishermen and hunters. He's learned much from some and a little from all to shape his opinions and focus his observations on the issues facing the modern outdoorsman.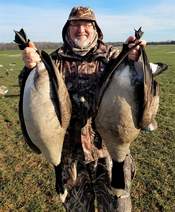 Overall, the Outdoorsman Radio Show is a place for listeners to share opinions and ideas, report on their successes and experiences, debate topics of interest and stay connected with the fishing and hunting community. Whether the listeners are weekend warriors actively engaged in the heritage and traditions of the outdoors or are now armchair outdoorsmen who came up during the "good ol' days"; all are invited to participate by listening, calling or telling their friends where to be every Saturday at daybreak.
Proud Sponsors
Legacy Waters
Environmental Services
---